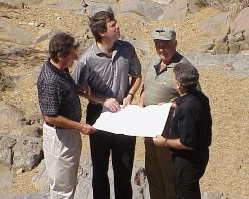 Strategic planning is the most demanding and crucial step in generating a winning project. It requires a comprehensive process starting with an envisioning workshop. Strategic Master Planning visualizes the project's character and outlines the products and services that will encompass a symbiotic relationship between residential and resort components of the golf community.
The course of action begins with extensive target market research to determine the property's potential. Once the information has been compiled, our team members create a shared understanding with common objectives that help guide every stage and every activity throughout the life of the project. Then, we design extensive business and marketing plans that determine the financial feasibility of the project.
The team develops an effective amenity strategy, which will include the client's market information to maximize economic value. The master program will be designed to capitalize investment and minimize risk. Our philosophy is to generate program integration to the design master planning firm, to provide for our clients the best and most successful development with a clearly superior competitive edge.
Critical Steps:
Site Works Evaluation

Design Master Planning

Program Definition

Market Feasibility

Pre-Development & Operations

Financial Analysis, Packaging and Presentation