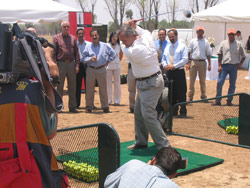 By actively participating in the strategic master planning process with the rest of the project teams, we integrate your marketing and sales resources together. They strengthen and compliment each other creating measurable financial achievements. One solution - instead of piecemeal parts.
Specialization in the world of marketing and sales have made it both, more important and more complex to harmonize the core elements of; strategic sales thinking, compelling language and the innovative use of the internet, as a properly orchestrated sales effort. In many instances, the independent development of these resources gives your sales mission a lesser chance to focus their coordinated efforts.
Knowledge of your market is extremely important to the success of any property, but sales are essential. By having a clear understanding of sales processes, the ability to develop effective sales strategies and systems through partnering with some of the best and brightest sales professionals in the industry, ADESA has been able to help owners and developers experience impressive sales results. Our expertise includes lead generation and tracking, as well as orchestrating pre-sales launches. Our main goal is to make an important difference in how fast and how well you reach your own marketing and sales goals. Our success depends on your success.
Our services incorporate:
Project Envisioning

Branding and Positioning

Sales Team Development

Web Site Development

Advertising and Public Relations

Event-Specific sales choreography

Sales Center Choreography